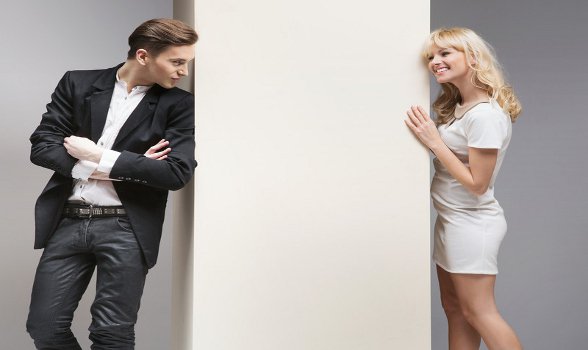 Flirting, it is something that many of us see as harmless, particularly if we are naturally flirty people. Some manage to put a lid on their flirty behaviour when they are in a relationship. Others don't see the need to tone it down.
So, which is right? Is it okay to flirt with someone, despite being committed to someone else? Or is wrong to flirt with strangers when you are in a relationship?
Flirting is a whole lot of fun
One thing is for sure, flirting, whether it is to take things further, or harmless, is great fun. It is a relatively natural human behaviour and one that is sure to get our pulse racing. This means if you are in a relationship, then maybe a spot of flirting could be just what you need to rev you up, even if that flirting isn't with your partner.
You might be tempted to stray
One of the negative associations with flirting whilst in a relationship is that you may become tempted into straying from your partner. This is particularly true if you feel that your current relationship isn't healthy, or you don't see it going anywhere. It starts with the occasional flirt and before you know it you're chatting away to people on adult dating sites and arrange some naughty local shags sex dating escapade. It's easily done…
Is it disrespectful to your partner to flirt with someone else?
Some people see flirting whilst you are in a relationship as a bit disrespectful to the other person. You may see it is harmless fun, but they may not. This can lead to feelings of betrayal or that you are being taken for a fool as far as your relationship is concerned.
It can keep the flame burning
It can be hard to keep the flame burning when you have been in a long term relationship.  You begin to feel comfortable with one another and those lustful thoughts will start to fade. Flirting is a great way to fan your own flame. Not only will it remind you that you could be seen as desirable, but it may also give your partner a bit of a shove towards remembering that they need to pay attention to you too.
Ultimately it is down to you whether you flirt or not
The thing to remember when it comes to flirting is that it really is down to you and your relationship. If you both agree that it is harmless and that you are strong enough as a couple, then there is nothing wrong with flirting.
If, however, you do not see yourself as having a stable relationship, or if either of you suffer from jealousy, then it may not be the best idea to have these types of interactions with people. Instead of flirting with complete strangers. Why not try flirting with each other instead? You may not have exactly the same thrill, but instead you will add fuel to the fire that is your relationship and make sure that you both feel incredibly wanted too.